Below is a selection of events that our office has funded for the month through our smART ventures grant program.  SmART ventures is a Seattle-based, flexible awards program that encourages innovative ideas, creates community impact, and provides new access for individuals and groups not served by our other programs. SmARTventures seeks to widen arts and cultural participation, particularly of diverse or underserved communities. We hope to see you at one of these great events!
Chasing Shadows, Chasing Light
Howard Snyder presents a collection of landscape photographs centering on the Pacific Northwest. The work displayed will be exclusively landscape photographs using state-of-the-art digital photographic and printing equipment as well as showcasing the latest in digital photographic post-production. All of the pieces will feature the Pacific Northwest and some national parks through the eyes of a Mexican artist. The show is open to the public and free of charge. The March 10 opening reception will feature premier work of international choreographer Diana Garcia-Snyder with improvisation and choreography specifically created for the event.
Dates: March 2nd through 31st
Time: 2 to 7 p.m. daily
Location: Seattle Creative Arts Center
Free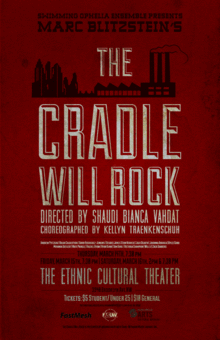 The Cradle Will Rock
Swimming Ophelia Ensemble presents The Cradle Will Rock, a musical by Marc Bliztein. In Steeltown, USA, the heroic Larry Foreman attempts to unionize the town's workers and create a better city for all who suffer through the depression, but must battle the greedy and brilliant Mr. Mister, who owns all of Steeltown, including its most prominent townspeople. The play explores the true price of selling out one's beliefs and the importance of fighting for unity in a community.
Swimming Ophelia Ensemble is a group of current and recently graduated UW Drama theatre performers, designers, and producers dedicated to creating socially relevant, not-boring theatre that is accessible to the entire community.
Dates: March 14th through 16th
Time: 7:30 p.m. on Thursday, March 14 and Friday, March 15 and 2 p.m. on Sunday, March 16
Location: Ethnic Cultural Theatre
Purchase Tickets
A Nest in Luna
Anna Conner integrates movement, graphic content, visual design, original music, and theater in her newest work, A Nest in Luna, premiering at this month's Boost Dance Festival. A Nest in Luna is a sample of an ongoing evening-length work involving multi-media performance. The Boost Dance Festival's mission is to create opportunities for Seattle contemporary dance artists. A Nest in Luna is one of many works being featured at the festival. For more information, please visit: http://www.boostdancefestival.com/
Dates: March 22nd through 24th
Time: 8 p.m.
Location: Balagan Theatre
Purchase Tickets
Poetry+Motion celebrates Women's History Month by presenting a performance based on the theme 'Woman's Work'. The women's movement of the 1970s was led predominantly by European-American women who fought to remove those barriers that kept them from working outside the home. That was a stark contrast to African American women who were always expected to work outside the home in order to support their family's basic needs. Poetry+Motion: Woman's Work will give African American poets and dancers (featuring jazz vocalist, Elnah Jordan) the opportunity to give voice and movement to that experience.
Dates: March 24th
Time: 6:30 p.m.
Location: Downstairs at Town Hall
Purchase Tickets Here